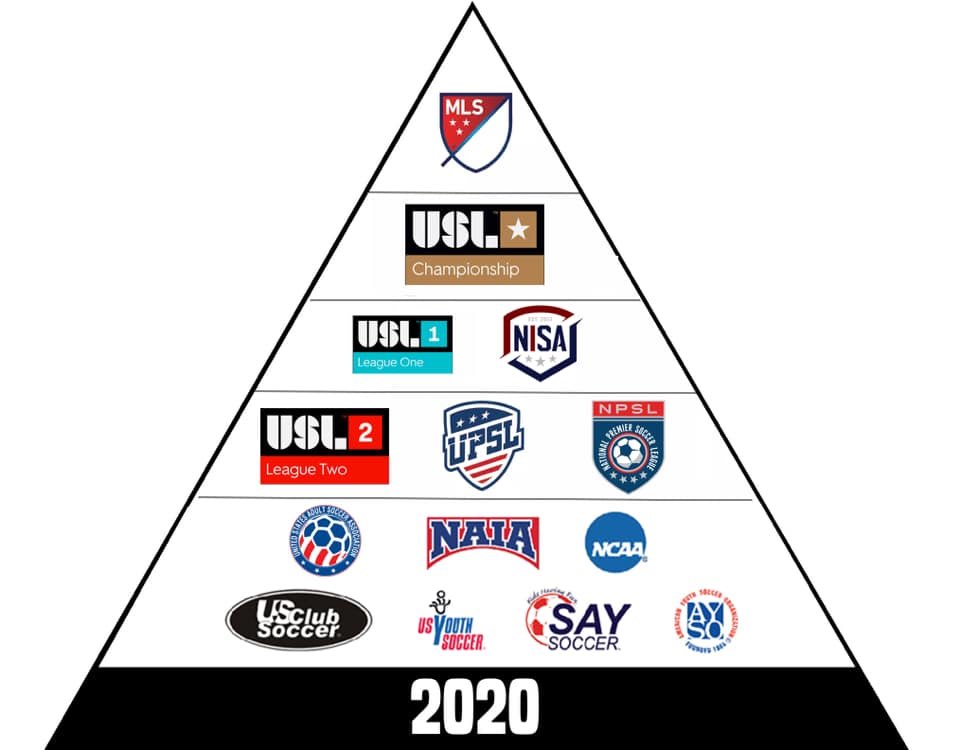 Exactly 100 years ago, in the year 1921, the American Soccer League was founded, bringing the United States its very first professional men's soccer league. That moment also ignited decades of disorganization within the country's professional soccer pyramid, where a jumble of divisions, leagues and levels have coexisted with little attempt (if any) at coordination.
This organizational chaos has trickled down and congested the pipeline between youth and professional soccer. That means young players have lacked a clear pathway to their dreams of playing professionally.
Thankfully, the past five years have seen promising steps taken to fix the US soccer pyramid's labyrinthine system. These are exciting times: the US soccer system is certainly still not perfect, but this new, simplified structure offers youth players a smoother, streamlined pathway to the pros.
Why did it take so long?
The short answer is that it shouldn't have taken a century to achieve this, and it probably didn't need to. But the history of professional soccer in the country has been complex and full of conflict since day one.
In the 1920s, when American men's professional soccer was in its infancy but growing rapidly, an argument between the American Soccer League and the US Football Association ignited the infamous "American Soccer Wars." Clubs were banned from competition. Players left to find greener pastures. Franchises folded. In the middle of the chaos, "outlaw leagues" began to pop up, and soon enough the entire US soccer system was destabilized and decentralized.
It basically stayed that way until the 1960s, when the 1966 FIFA World Cup (the first ever broadcast on color television) revitalized the country's interest in soccer. The United Soccer Association formed. So did the National Professional Soccer League. And they picked up right where the last soccer war left off, with both sides feeling betrayed and alleging conspiracy, corruption and collusion. After two years, the two leagues agreed to an unhappy merger.
That new North American Soccer League survived (mostly thanks to the still-implausible presence of Pele and Beckenbauer on the New York Cosmos) until 1984, when only two of the league's 24 teams expressed an interest in playing the following season. The league collapsed, falling victim to its own greed and over-expansion.
Not much happened for a while after that, with indoor/arena soccer going through an inexplicable renaissance and the golden age of basketball dominating the media. In 1988, though, the USSF agreed to create a top-tier professional league in exchange for hosting the 1994 World Cup. And that's how Major League Soccer was born.
How is the professional soccer pyramid structured now?
Believe it or not, that history only explains the very top tier of men's professional soccer here. But the antagonism has been repeated time and time again, for decades, at all levels of professional and semi-professional soccer in the States. The 1990s saw many leagues and associations aspire to greatness. Most crumbled, or were absorbed, or faded into obscurity.
Only with the birth of the United Soccer League (USL) has any vaguely clear-cut structure existed beneath the highest level. Even that has taken time. Now, though, the pathway to professional soccer is at least simple enough to be represented in a graphic.
In 2017, the USL Championship and USL League One were officially USSF-sanctioned as professional divisions — the second and third, respectively, beneath MLS. Everything else is technically semi-professional, and remains something of a hot mess: the National Independent Soccer Association, National Premier Soccer League, United Premier Soccer League and a handful others all operate in murky, undesignated waters. But the USL umbrella offers some strand of consistency to the soccer pyramid, and has made soccer both more accessible and more popular nationwide, all while providing opportunities for players to extend their careers beyond the collegiate level.
How does this impact youth players?
A streamlined U.S. professional soccer pyramid can only mean good things for the future of the sport. Today's youth have amazing new opportunities to pursue professional and semi-professional soccer. And as momentum builds and academy programs grow, those opportunities expand to younger and younger players.
In the mid-2000s, professional teams began to add U-23 development sides for the first time ever. In 2018, USL League 2 was created as a pool where elite college players and standout high school players can be tagged for potential future MLS stardom.
Since then, the USL Academy and Super Y League have formed, along with MLS Next. Though separate entities, all three leagues are dedicated to developing future professional players and enhancing the quality of youth soccer in communities nationwide.
What does that mean for everyone else?
Better access to better soccer is undoubtedly a terrific thing. But the absurd amount of money invested in these programs also threatens to widen the gap between the "top tier" of players and the rest of the youth soccer community, who are without access to elite-level resources.
That doesn't mean they aren't learning from amazing coaches — it means they're missing out on vital opportunities for development and growth. In the upper echelon of American soccer, teams have the technology, means and methods to film and analyze games and accelerate youth players' development. And you better believe they're using it to their fullest advantage.
That means you should be too. If your players have ambitions of playing at the highest levels, it's important to begin incorporating film as part of their learning processes. Watching and exploring film is a powerful way for players to learn about themselves and their game. It's also becoming the norm for youth soccer at increasingly young ages.
How can film help my player reach the top level?
Just ask Georgia Storm head coach Stephen Bivens. His club uses Trace at all levels of their program — including their semi-pro team, which competes in the UPSL and NPSL. He says Trace allows his coaching staff to provide each player with highlights and learning opportunities after each game, but he also attests that Trace's benefits extend far beyond simply receiving these moments. It all depends on what you do with them.
"A lot of our youth players have aspirations of going pro or playing in college, so a lot of college recruiters are asking for highlight tapes," Stephen says. "It's very easy for our youth teams to use Trace and then get those highlights back really quickly. That way, they can send those off and hope to get to the next level." Up until now, highlight reels and game film have largely been used in this capacity — to get noticed by college coaches. But that's starting to change.
As professional teams begin to invest in younger and younger players, it's crucial to ignite interest and attract attention from elite organizations. After all, the earlier a player gets into the system, the more they stand to benefit from it. Video plays a vital role here — and with Trace, all you have to do is pick, choose and share those moments that best showcase your players' incredible talents.
With Trace iD, families have a unique opportunity to organize playlists of their player's brightest moments, and share those players with friends, family, recruiters and academy programs. Check out this sample Trace iD, created by a Trace athlete from FC Dallas who recently committed to Clemson.
trace
See how Trace works
Want to learn even more? Submit the form below to receive a video demo with more on how Trace works, success stories, and steps to start Tracing.